---
Love your Verizon or Sprint phone, but ready for a change of network? Here's everything you need to know about ditching your carrier, but keeping your device.
At WhistleOut, we're often asked by our readers: will my current phone work on a new network? Unfortunately for Sprint and Verizon customers, the answer can be confusing.
Before we break down the specifics for each carrier, here's a quick primer on CDMA and GSM technologies: what they are, and why they're important in determining which phones you can use across networks. But if you're looking for a quick answer, skip ahead: here for Sprint phones, and here for Verizon.
A SIM or no SIM?
---
In the U.S., there are two wireless technologies in use: CDMA and GSM — and they're completely incompatible.
Verizon and Sprint's networks use CDMA technology, while AT&T and T-Mobile are built on GSM.
The big difference between the two is that GSM networks use a removable SIM card to identify subscribers on the network, while CDMA devices have electronic serial numbers embedded in the device and require specialist reprogramming to change networks.
With a SIM card, you can quickly swap your service provider by removing your old card and inserting a new card into your phone. If your T-Mobile or AT&T phone is unlocked, you should have no problems swapping SIM cards between devices on these networks.
Since the network operators launched LTE networks, it's become a little easier. All LTE networks in the U.S. are built using GSM technology, so newer Sprint and Verizon LTE-enabled handsets include a SIM card and may work on all GSM networks, big and small.
It depends on the way specific phones are designed though. Some older phones only use the SIM card for LTE services, meaning that even if you can switch to a new GSM network, you might not be able to access 2G and 3G services for calls and messaging.
---


Moving to Verizon and Sprint MVNOs
---
If you're looking for a cheaper plan and you own a Sprint phone, you're in luck. There are more MVNOs on the Sprint network than on any other. This means your Sprint devices will work on plans from Ting, Republic Wireless, Boost Mobile, and at least one dozen more providers: see the box below to compare.
The bad news? Taking your Sprint phone to Verizon Wireless is still more or less impossible. In addition to the incompatible spectrum bands, Verizon is unlikely to accept the device on its network, and will insist you buy a new, Verizon-branded smartphone.
Moving to AT&T or T-Mobile
---
If you're hoping to take a Sprint device to T-Mobile or AT&T, you may be able to do so with LTE-capable devices and later model Apple iPhones, but there are no guarantees. If your device is accepted, you may experience good LTE service but sub-par (or non-existent) talk, text and 3G data.
As confusing as it is, if you can get your Sprint phone unlocked, there is a chance you can have it activated for service on a GSM network – but you'll need to speak with your new GSM carrier, and ask whether they'll accept the make and model of your handset.
---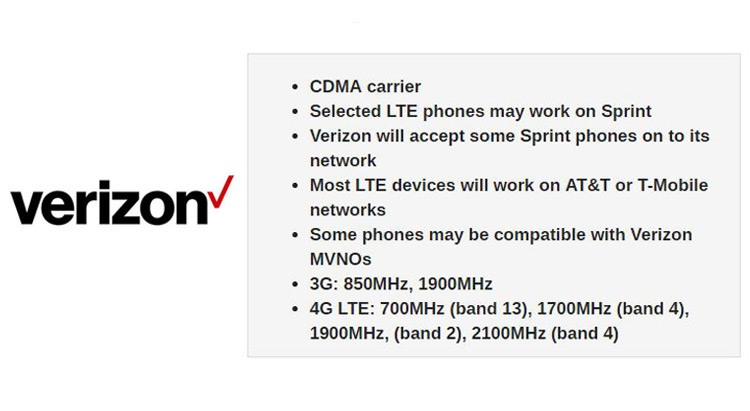 Moving to Sprint and other CDMA networks
---
In terms of moving to another CDMA network, some Verizon resellers, such as Straight Talk and Total Wireless, may be compatible with pre-loved Verizon devices – you can compare plans by clicking the box below. But you'll need to check your device's ID number with each provider directly to determine eligibility.
While taking your Verizon device to Sprint was previously impossible, Sprint is now accepting selected Verizon handsets, particularly later-model iPhones. But despite both carriers sharing the same basic technology, many Verizon devices still won't respond to Sprint service. You'll need to check with Sprint directly as to whether your Verizon smartphone is compatible.
Moving to AT&T or T-Mobile
---
Great news: Verizon's LTE devices are now network unlocked as soon as you buy them. So some newer LTE devices – for example, the iPhone – may support GSM voice and data if you replace the Verizon SIM with a card from T-Mobile or AT&T.
Unfortunately, there are no guarantees and, even if your new SIM does work with your Verizon device, you may not be able to access the 2G and 3G networks. You will be able to use high-speed data, but if 2G and 3G services are limited you may not be able to make calls or send SMS messages.
Compare Carriers to Find the Perfect
Cell Phone Plan
About Sprint...

Sprint is considered one of the "big four" carriers in the United States. Sprint's many retail locations are scattered throughout the country, and the company is headquartered in Overland Park, KS.
Network Sprint operates a nationwide 3G/4G CDMA network on the 1900 MHz PCS band. Sprint's LTE band frequency will support bands 25 and 41.
Where to Buy: Sprint sells their plans and phones online and at their over 4,500 stores.
Bring Your Own Phone to Sprint: To bring your phone to Sprint, it must be unlocked and have previously run on CDMA technology. Find out more about bringing your own phone here.
Tethering: Customers who purchase Sprint's Unlimited Freedom Plan will get 10 GB/month for tethering purposes. Customers without the Unlimited Freedom Plan can purchase network data for $15/1GB.
Taxes & Fees: Sprint will charge state taxes and fees on top of your monthly cell phone plan cost.
Fact: Sprint's origins stretch all the way back to 1899 (!) with the founding of Brown Telephone Company in rural Kansas. Learn more about Sprint via our carrier review.
About Verizon Wireless...

Verizon Wireless is one for the "Big Four" cell phone carriers in the United States. The Verizon network uses the latest 4G LTE technology while also supporting HSPA & HSPA+ (2G/3G). Verizon was founded in 2000 and is currently the leading cell phone provider in the United States.
Network: Verizon wireless uses CDMA technology. Verizon uses bands 0 and 1 for 3G (850Mhz, 1900Mhz), and bands 2, 4, 13 (1900Mhz, 1700f, 700c) for LTE. 5G technology is coming soon.
Where to Buy: Verizon has over 2,300 retail stores nationwide, so no matter where you are, one probably isn't far away. You can also buy phones and plans online.
Bring Your Own Phone to Verizon: Bringing your own phone to Verizon is easy. You simply need to have an unlocked Verizon-compatible device that supports the company's 3G and LTE bands. Check your phone's compatibility with Verizon here.
Tethering: Verizon's unlimited plan includes 10GB for hotspot usage, after which, speeds are throttled. You can also purchase data-only packs to keep you connected on the go.
Prepaid: Verizon offers prepaid plans in addition to their postpaid ones.
Taxes & Fees: Verizon will charge state taxes and fees on top of your monthly cell phone plan cost.
Fact: When it comes to coverage, Verizon is king. The company's network canvasses more of the United States than those of any of its competitors. Learn more about Verizon via our carrier review.
Original cell phone image via Shutterstock
---