---
We all like to keep it simple and with Cricket Wireless it's all wysiwyg (what you see is what you get). Big coverage at small prices.
Cricket is owned by AT&T and operates on the AT&T network. which means you can get extensive 4G LTE network coverage for bargain basement prices. In other words, Cricket uses all of it's parent's expensive equipment (AT&T's towers and infrastructure) but charges you less to use it.
On top of that, Cricket is easy to understand. You can actually go to their website and find all plans and prices in one spot. That alone makes it an appealing carrier for many. Cricket's plans are straight-forward with prices that include taxes and fees, so there are no surprises when it comes time to pay the bill. I know, right? The way it should always be, but never is.
Families should also give Cricket Wireless a close look. When adding multiple lines through their Group Saving plans, families can do pretty well in comparison to other carriers' plans. Cricket's plans offer a decent amount of data on each line -- a family of four can pay as little as $100 for 10GB of data. Though Cricket doesn't offer AT&T's rollover family option (an underwhelming feature where your surplus data expires after just one month,) but considering you can save $60 a month with Cricket, it may be worth delivering the "Respect The Data Limits" lecture to your kids.
Critics like to complain about Cricket's speeds, which are capped at 8 Mbps, compared with speeds up to five-times faster, or more, on the AT&T LTE network. However, for most of us who like the internet but are not obsessed the speed's just fine.
Even when Netflix releases the next season of Stranger Things, you can stream away. Netflix only requires a minimum of 0.5 Mbps speed and 3.0 Mbps for solid picture quality. So with 8 Mbps, you can take Netflix on-the-go, no problem. For those hell-bent on gunning their cellular Porsches on the gigabyte Autobahn, great. But for those of us who don't really need all that speed, why pay extra?
Cricket Breakdown
Strengths
Value-driven, attractively priced plans, especially for multiple lines
Prices include taxes and fees so there are no surprises when it comes time to pay the bill.
Excellent coverage
No data overages fees. Speeds are reduced after high-speed data allowance is used.
Easy to bring your own phone to its service
No credit checks required
Weaknesses
slower speeds, potentially poor streaming of music and video
limited special features outside of international calling options
need to pay full-price for Cricket phones upfront, no monthly installments or payment plans offered
How Cricket compares on pricing
When it comes to choosing a cell phone plan, most of us want two things: great coverage and good prices. Cricket Wireless rocks them both.
Getting AT&T's impressive coverage at a low cost is a deal for an individual -- and a serious bargain for a family. Single line plans start at $30/month for 1GB of data which is comparable to the pricing offered by other small carriers. However, the other carriers run off Sprint and T-Mobile networks which do have comparable coverage to AT&T, but may make a difference in the more remote areas where the sheer scope of AT&T's and Verizon's infrastructure ensures the least "Can you here me now?" moments.
Cricket also offers "All-In" pricing which includes all surcharges and taxes.
Compare Cricket's family plan prices against all carriers great and small, and you'll see that Cricket's hard to beat with 4 lines + 2.5 GB data each costing as little as $100 a month. All Cricket plans include unlimited nationwide text and calling.
Family Plan Comparison
International travelers should know that Unlimited International texting and Unlimited Talk & Text to and from Mexico and Canada are included in Cricket's Smart plans (w/ 8 GB) or Pro plans (w/ 10 GB) or available as an add-on feature for an additional fee. As a smaller carrier, they don't offer a plenitude of special features like roll-over and shared data options which can be easily forgiven for those of us who adore the value and simplicity of a basic data plan.
Cricket is a prepaid carrier. Before you start your service, you pay for that month in advance. By prepaying, you know your expenses upfront, and you can also avoid credit checks. There are no overage fees at Cricket, but the speeds will be reduced once you have exceeded your data allotment.
Cricket has a decent array of premium phones sold at the standard manufacturer suggested retail price, but its large selection of economy handhelds is something to consider, especially if you're thinking of outfitting your kids with their very first phones. Plus, if you purchase a new phone at Cricket, you own it upfront since they require payment in full for their devices. Add this to the fact that you're not on a service plan contract and you're a free agent -- which is a big deal because you're able to easily switch carriers if you find a better price...but you may yourself sticking around for awhile with Cricket because its solid coverage and awesome pricing is going to be pretty hard to beat.
Cricket coverage is awesome
Think of cellular towers everywhere, as in climb the top of a mountain and spot one camouflaged as a treecomplete with a faux-bark finish. That's what you get with Cricket Wireless because they have access to all of Pop's AT&T infrastructure muscle.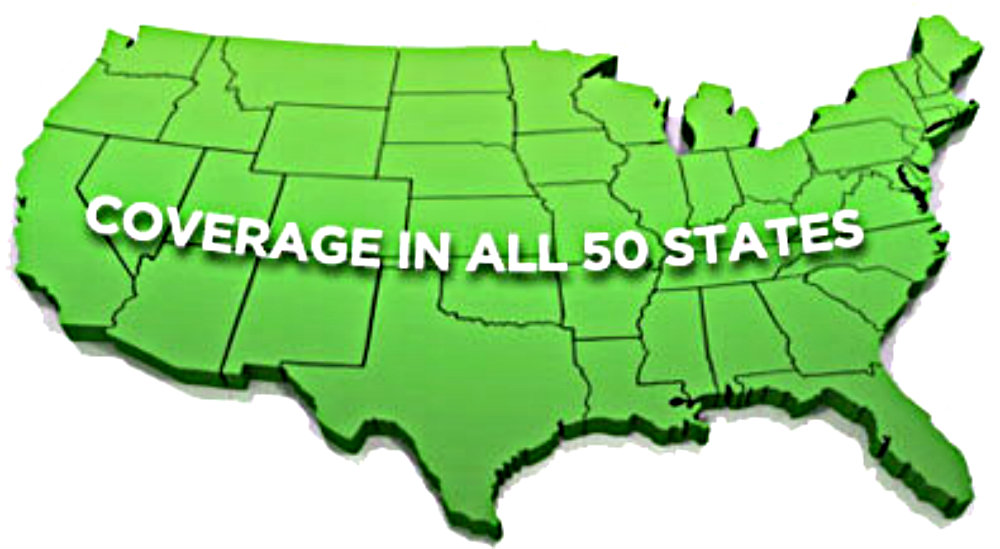 Coverage is strong whether you are in urban or rural areas. While most of the major city markets are well-covered across all four major carriers, AT&T's coverage will give you the best odds of getting solid reception on those country roads. Think of it this way, if you want constant Spotify on your next Thelma and Louise road trip, Cricket's a great option.
RootMetrics scores (quarterly scores given by an independent agency that routinely tests carriers' speed and performance across the nation) routinely put AT&T neck and neck with Verizon. Consistently, AT&T is a solid #2 in the nation, and the scant percentage point difference between the two is almost indecipherable.
Another thing to consider is the other half of the coverage equation, your phone. If your phone's an older model, it may not have the technology to connect to the 4G frequency towers and as a result will not receive a signal.
Coverage comparison
| | |
| --- | --- |
| Sprint | 93.9% coverage & reliability score |
| T-Mobile | 95.1% coverage & reliability score |
| Verizon | 97.5% coverage & reliability score |
| AT&T | 96.3% coverage & reliability score |
Things to Consider with Cricket Wireless
1) Hot Spots-Tethering
Cricket's Mobile Hotspot makes your cell phone a WiFi hotspot so you can connect your laptop to the internet when you are on the go. Not all phones are compatible with this feature so check for compatibility. This feature can be added to your line for an additional charge.
2) International Calling & Roaming
Only the 8GB and 10GB plans include unlimited international texting and unlimited talk & text to and from Mexico and Canada. As add-on features with an additional monthly charges, you can get unlimited calling to 36 countries from the US and unlimited picture/video messaging internationally.
Cricket has limited roaming options so if you often travel internationally, you may want to take this into consideration.
Your friends might have just switched to Cricket Wireless.
Cricket Wireless is one of the fastest growing prepaid wireless carriers in the US. 500,000 new subscribers joined Cricket in the first quarter of 2016 alone.
How much should you expect to pay?
Want to contact Cricket Wireless?
WhistleOut Staff Review
Matthew Robinson
Product and User Support Professional at WhistleOut in California
Uses the Cricket Pro 12 GB Plan
---
WHY DID YOU CHOOSE CRICKET?
I choose Cricket because at the time the offered the most GBs for the best price. They also ran off of GSM and I needed a GSM carrier so it worked out perfect. At the time they were offering 10GB for $55 on autopay.
WHAT HAS IT BEEN LIKE?
Its been mostly good with Cricket. They give me a sufficient amount of data each month and for a reasonable price. The negatives include rather slow data at times, non service in rural areas, and not the best call quality for someone on the other end of the phone call.
WHAT DO YOU LOVE ABOUT IT?
I love that they give me 10GB of data which they've just recently upped to 12GB free of charge. Their website and auto-pay are very easy to use/set up. It does what I need it to do.
WHAT WOULD YOU CHANGE?
The speed of the data is too slow at times making the experience a bit frustration depending on how quickly I need to access information. Please up the data speeds to a reasonable amount so we can enjoy more entertainment at a quicker rate.
WHO WOULD YOU RECOMMEND THIS TO?
Someone paying too much and looking to get more for less.
Compare Carriers to Find the Perfect
Cell Phone Plan
About Cricket...
Cricket Wireless is a prepaid MVNO (mobile virtual network operator) that runs on AT&T's 4G LTE network. Cricket was founded in 1999 and acquired by AT&T in 2014.
Network: Cricket runs on AT&T's 4G LTE network, making use of band 17 and band 5 (700Mhz, 850Mhz), band 2 and 4 (1900Mhz, 1700/2100Mhz). Cricket's 4G HSPA and HSPA+ use band 5 and 2 (850Mhz, 1900Mhz).
Where to Buy: In addition to thousands of retail stores nationwide--over 10,000, in fact--Cricket also sells plans online via their website and WhistleOut.
Bring Your Own Phone to Cricket Wireless: If you have an unlocked GSM phone and your phone supports AT&T's LTE bands, you can bring your own phone to Cricket. Check device eligibility here.
Tethering: Customers who have eligible tethering-compatible devices can use them for this purpose on Cricket.
Fact: The Cricket Wireless network covers over 99% of the U.S. population. Learn more about Cricket via our carrier review.
---