---
It's one of the most important parts of getting the best cell phone plan: coverage.
WhistleOut is the only place on the internet where you can compare both carrier plans and networks in the one search. We match plans and carriers to your location, ensuring that you have personalized comparison results to get the right plan. Read on to learn how.
How to Compare Your Coverage, Instantly
Start at our homepage and enter your location (we check any location in the U.S.)
Enter your plan needs and click "search"
Matching carriers and plans are shown for your location
Review your results and view the coverage maps across each carrier
---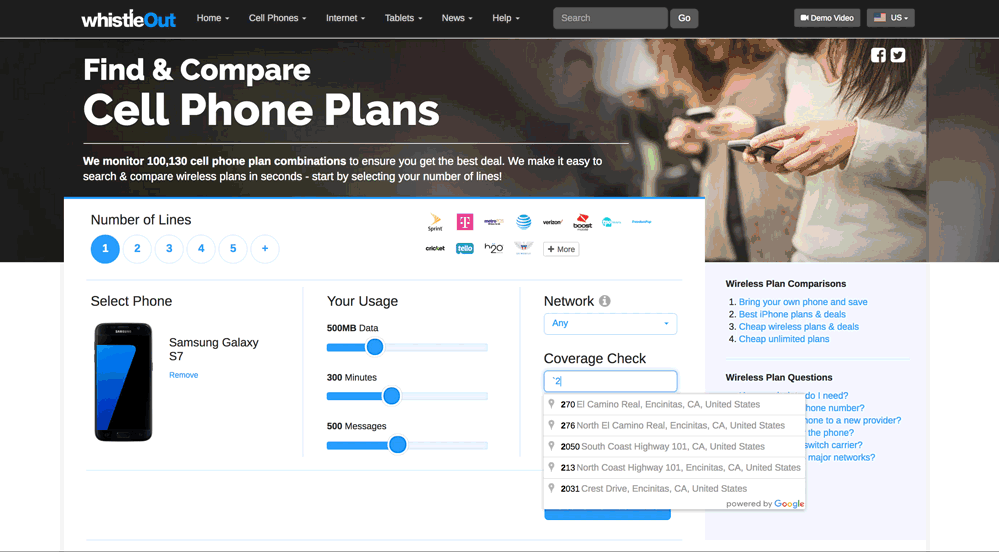 Checking coverage at an address in Encinitas across Sprint, T-Mobile, Verizon and ATT networks
It takes just a few seconds for us to find the best carriers for you. If a particular carrier can't provide coverage at your location, we'll remove it from the results.
Even though there are four main networks, our comparison tool also shows plans from a variety of smaller carriers—known as MVNOs—that rent space on the networks of the major carriers. If all four networks can cover you, you'll get comparison options from over 30 carriers! Companies like Straight Talk Wireless and Cricket provide the same great coverage as the big guys, at a fraction of the price.
Compare Networks & Carriers to Find the
Best Cell Phone Coverage
In addition to comparing the coverage maps where you live, you might want to read our guide on who we think has the best coverage or the one on how your phone affects your cell phone coverage.
Understanding Coverage: Is More Coverage Better Coverage?
A cursory glance at the coverage maps of the United States show Verizon blanketing the most geographical area, with AT&T not far off. However, this isn't necessarily the best metric to use when deciding on a carrier, unless you do a ton of traveling to disparate parts of the county. What really matters is how coverage is in the places you spend the most time. That's where our address lookup tool comes in handy.
Another thing to keep in mind: when carriers claim a certain percentage of coverage throughout the United States--say, 98%--they're usually referring to their coverage of where people live. They're not claiming 98% coverage of the country's actual geographic area. It does sounds like a trick in the wording, but the reality is that the carriers need to put the most effort into where we spend most of our lives, not building towers in the middle of Death Valley.
AT&T National Coverage Map: Comparison
Sprint Network National Coverage Map: Comparison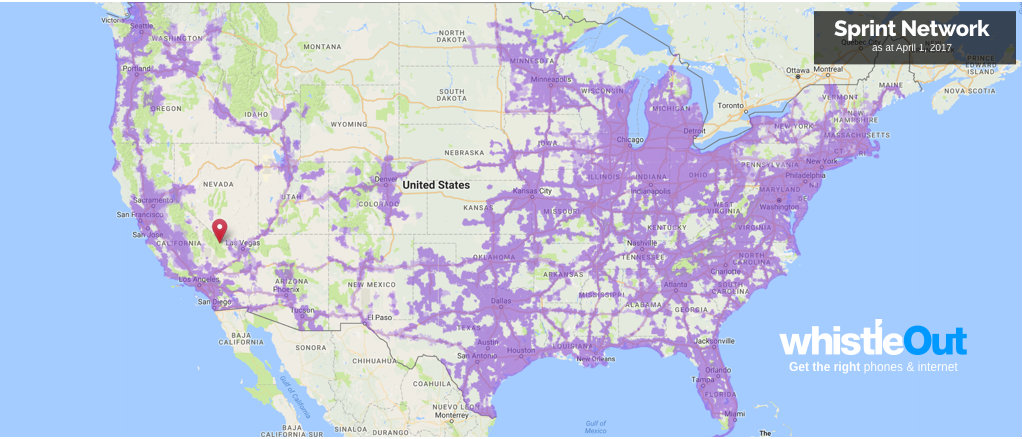 T-Mobile Network National Coverage Map: Comparison
Verizon Network National Coverage Map: Comparison
Ready to get started? Find the perfect cell phone plan here
Compare Carriers to Find the Perfect
Cell Phone Plan
---