---
Alaska boasts the most awe-inspiring, punishing landscape in the United States.
From its expansive forests to its raging rivers to its soaring peaks, Alaska has the ability to leave even the most hardened residents completely awestruck. Not to mention its the only U.S. state in which getting eaten alive by grizzly bears is a very real threat.
In a surprise to no one, cell coverage can be very challenging in the state, and Alaska boasts the weakest overall reception in the U.S. It's likely to stay that way for a while, barring any dramatic network infrastructure moves from the four majors.
Read on to learn more about coverage in Alaska, and which carriers do the best job in the state.
Coverage in Alaska At-a-Glance
Just like Alaska's landscape, coverage in the state has its ups and downs. It's still got a long way to go in terms of network coverage, earning a paltry 8 out 100 coverage score.
What we love
AT&T provides the strongest coverage in Alaska
Verizon working to improve their coverage in the state
What could be improved
Sprint and T-Mobile networks completely absent in Alaska
Coverage always tricky in deep valleys or remote natural areas
AT&T and Verizon generally provide the best coverage in Alaska, not surprising since these carriers are great in rural regions, which the state is mostly comprised of. Sprint and T-Mobile's networks are M.I.A.
Coverage by Network in Alaska
Numbers on a page are one thing, but the coverage maps tell the full story. Fortunately, you don't have to go to all of the carriers' websites to get this information--you can see what the coverage is like from the four majors below:
---
The maps confirm that AT&T provides the most robust coverage in Alaska, followed by Verizon.
Big Carriers vs. Small Carriers in Alaska
Did you know that there are dozens of small carriers that run on the major networks, but charge a fraction of the price for service? These companies are known as Mobile Virtual Network Operators, MVNOs for short. MVNOs purchase network service from the major providers at wholesale prices, then pass the savings on to consumers.
If you're interested in Verizon's coverage, for example, but are looking for a better deal, Straight Talk Wireless, Twigby and Red Pocket are just a few of the smaller providers you'll want to check out.
Getting the Best Plan & Coverage
WhistleOut's new coverage check feature supercharges an already robust comparison engine by allowing you to instantly see what coverage is like at your location. All you have to do is punch in your address and we do the rest. This feature is the first of its kind, and empowers consumers to make better decisions when it comes to wireless. If you need help figuring out how to use it, the GIF below should help: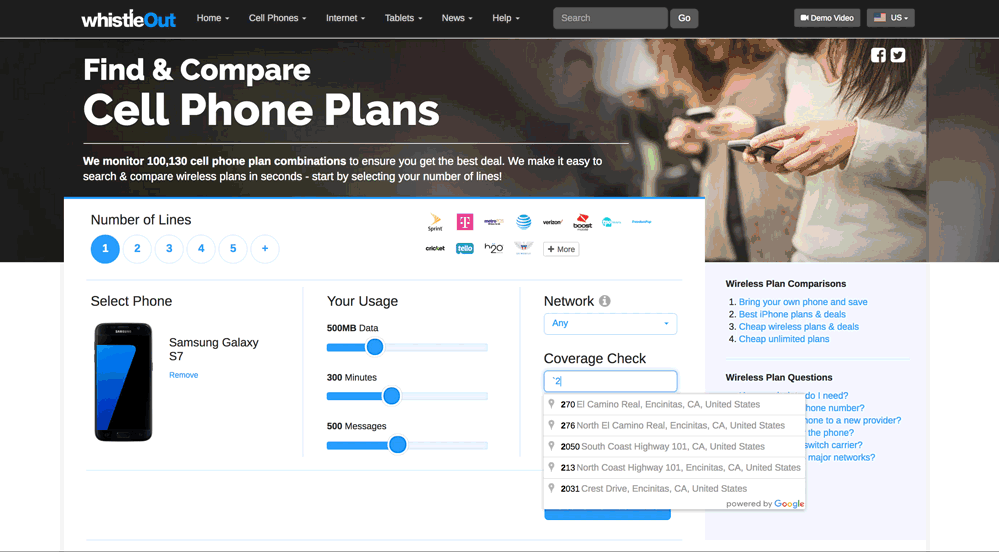 Checking coverage at an address in Encinitas across Sprint, T-Mobile, Verizon and ATT networks
In addition to showing you a map of your area with the coverage from all four major carriers, we filter through the available cell phone plans and present only those from carriers who provide good reception to you.
Compare Carriers to Find the Perfect
Cell Phone Plan
---