---
Taking your phone between networks in the US can be a tricky business, but well worth it. If you've got a handset that you're still happy with, but want to ditch your current carrier, keeping your old device instead of buying a new smartphone on a contract can result in huge savings. How do you actually save money?

By keeping your own phone, you don't have to buy a new one. You just saved $150+ right off the bat. Sounds easy enough but in order to do that, you need to first be sure that you can actually keep your phone. Some carriers make it easy, others, not so much. We're going to break it down for you right here.

Read on to figure out if you can keep your phone and, in turn, save a bunch of cash with BYO Phone Plans.
Verizon and Sprint use CDMA technology; AT&T and T-Mobile use GSM.
These two standards are not compatible.
However, many modern LTE phones can be switch across carriers - check below.
Switching? Check Your Phone Instantly
---
Some phones only work with one network, whereas other phones can be switched across all networks. First, identify your carrier's original network below:
Sprint Network: Sprint, Virgin, Boost, TPO, RingPlus,Tello, Twigby, Pix Wireless
T-Mobile Network: T-Mobile, Metro PCS, Simple Mobile, Ting, Ultra Mobile, Project Fi
AT&T Network: AT&T, Cricket, US Mobile, FreedomPop, Republic Wireless, H20
Verizon Network: Verizon, PagePlus, Total Wireless, ROK Mobile
Remember, to switch, your phone must be first be unlocked. Make sure you pay all remaining balances to your current carrier so you can get your unlock code before switching to your new carrier.
Next, select your network and your phone model to see which carrier's you can switch to.
1) Which network did you purchase your phone from?
2) Which phone model did you purchase?
Read below to find out more about wireless networks, or skip ahead to your carrier: Verizon, AT&T, T-Mobile, or Sprint.
CDMA vs. GSM: What's the Difference?
---
The first hurdle when moving between networks is a big one; US carriers don't all run on the same kind of cellular technology. If your current carrier is set up for one, and your desired carrier set up for another, then it's likely you won't be able to use your current phone on the new network.
Cell phone companies operate under one of two types of networks; either CDMA or GSM. Of the four biggest US carriers, AT&T and T-Mobile run on 'GSM' networks, while Sprint and Verizon Wireless use 'CDMA'.
GSM
GSM phones use a SIM card for 2G (voice and text), 3G (voice, text and internet), and 4G (high speed internet and VoLTE) operation. This is a small removable plastic card that stores the data needed to identify a subscriber on a wireless network. The phone itself is not part of the authentication process; the SIM card handles all of that.
This is great news; you can remove the SIM from your current phone and insert it into another compatible device, provided it's either with the same carrier or you've 'unlocked' it from its original network for use on another. Swapping the SIM means the new phone will operate over the same network with the same phone number.
CDMA
Phones running on CDMA networks don't use a SIM card for 2G or 3G, but require one for 4G. Electronic serial numbers are used to identify subscribers for 2G and 3G. These serial numbers are coded in to the phones themselves, which creates a problem if you want to switch carriers.
You'll need to get your new provider to grant permission for your device to be given a serial number (and thus a working service line and phone number) on its network.
GSM is common globally, and is used in far more countries than CDMA - so travelling with a CDMA phone may be difficult. A few phones, like the 'CDMA' variants of the iPhone 6 and 6 Plus, are designed to work over both CDMA and GSM. These are often referred to as ' global' by carriers. If you're lucky enough to have a phone like this, you may be able to move to most carriers.
Unlocking Your Phone
Device-locking is pretty common. This is when a carrier places a block within the phone to restrict it from working on any network but its own.
Getting your phone unlocked can range from trivial to downright tricky, depending on your carrier. Each handles the process in its own way, which we'll cover in each section. If you've finished your contract, paid for your phone in full, or have used it for over one year on a prepaid service, then chances are you're eligible for unlocking.
If you bought your phone off-contract (i.e., an iPhone directly from Apple for full outright price), then it should already be unlocked.
Check out some of the best value BYO carriers and deals below...
Verizon
---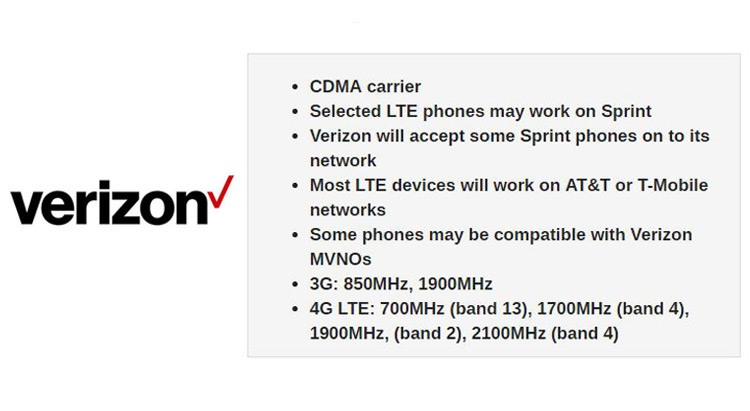 Where can I use my Verizon phone?
All 4G LTE Verizon phones come network unlocked.
You should be able to use your 4G device on AT&T and T-Mobile.
Verizon devices may also work with the carrier's MVNOs, such as Straight Talk, Page Plus and Red Pocket.
Some Verizon phones - newer iPhones, Google Nexus models, and some Motorola handsets - will work with Sprint.
If you do need an unlocking code, call Verizon on (888) 294-6804.
AT&T
---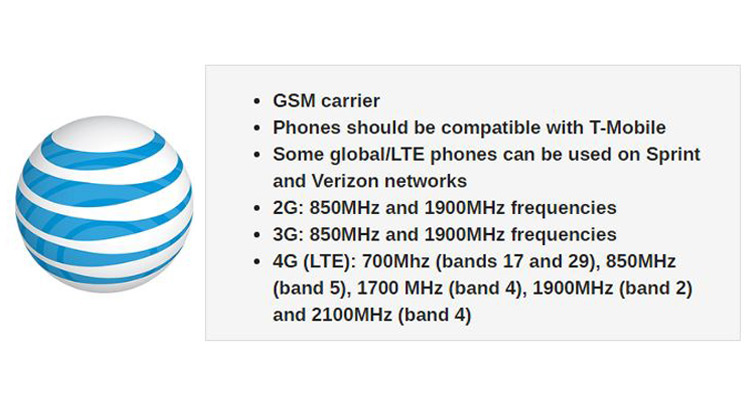 Where can I use my AT&T phone?
You can take most phones to T-Mobile or other GSM providers.
4G LTE devices should work on Verizon, although you may not be able to use 3G/2G services.
Some phones - such as newer iPhones and selected Nexus devices, will work with Sprint.
>Unlocking Your Phone
Phones sold through AT&T are locked to its network. You can request an unlock code, but you need to fit the criteria:
It must be paid off in full, and not still on contract or a payment plan.
It is not currently active on a different AT&T customer's account.
If you performed an early-upgrade, you must wait a 14 day 'buyer's remorse period' before you can request an unlock to your previous device.
It must not be associated with fraudulent activity, reported lost, or reported stolen.
Post-paid customers must have an account that has been active for at least 60 days, with no past due or unpaid balance.
Prepaid devices must have been active for at least six months of paid service.
T-Mobile
---
Where can I use my T-Mobile phone?
Devices should work with AT&T and other GSM providers.
4G LTE phones with Band 2 or 4 compatibility should work with Verizon.
Selected T-Mobile iPhones, Nexus devices, and the Motorola Moto X Pure Edition should be compatible with Sprint.
Unlocking your device
T-Mobile devices are often locked to its network. Unlocking is free and is handled within two business days, but your device must meet the below eligibility criteria.
Post-paid:
It must have been active for at least 40 days on the T-Mobile network on the requesting line.
If the device was financed through T-Mobile's Equipment Installment Plan (EIP), then you must have paid off the full owed amount before the phone can be unlocked.
If the device is on an account that is under a service contract term, then at least 18 consecutive monthly payments must have been made, or the account must have been migrated to a Simple Choice no-contract plan.
If associated with a cancelled account, the balance owing must be zero.
Prepaid:
It must have been active on the T-Mobile network for more than 12 months.
If under 12 months, the associated prepaid account must have had more than $25 in refills for basic phones or $100 in refills for smartphones/tablets since first use date.
Sprint
---
Where can I use my Sprint phone?
Selected Sprint devices may work with Verizon: namely the iPhone 5c and up, as well as Nexus devices and the Moto X Pure Edition.
Some devices can be taken to Ting and Boost Mobile, but not prepaid brand Virgin Mobile.
Global Sprint devices with SIM card room may work with AT&T and T-Mobile's GSM networks, but only on 4G LTE service.
Unlocking your device
Sprint will unlock phones for international use, or if your phone has been active on Sprint for a minimum of 50 days.
Your device must be fully paid off, or bought at full price upfront.
Phones bought on installments or lease agreements must have no further payments owing, and (for Sprint Lease) customers need to pay the Purchase Option Price.
Sprint does not unlock devices that are reported as lost/stolen, or that are associated with fraudulent account activity.
---
Want to unlock your phone?
Thanks to changes in FCC regulations, it is now really easy to network unlock your phone. Follow the links below to learn about how the different rules and procedures for the network you're currently on. If you have unlocked your phone already, check out our picks for the best plans for your device.
---
---
---